Useful guides about using Fast Audio Converter
---
Here you can find step-by-step guides which are very easy for understanding.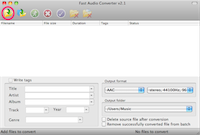 Convert from WMA to MP3
If you need to convert your WMA file(s) to MP3 format then you can do it easily with
Fast Audio Converter
. This guide will describe how to do this conversion step-by-step. All of these steps are simple for understanding.
Read more